About Souvenirs, Gifts & Novelties Magazine
Souvenirs, Gifts & Novelties (SGN) magazine, established in 1962, is published eight times a year and has a total qualified readership mailing of 23,497 based on the June/July 2022 issue. In addition, the magazine is bonus distributed at many major and minor gift, jewelry, toy, specialty and resort shows across North America, giving advertisers a solid platform to reach a wide audience.
For readers, the original articles published in SGN are based on a format that highlights useful tips and advice, and that also reports on trends. SGN is the only gift trade publication addressing the specific needs and interests of its retail and wholesale readership. The magazine has a strong readership of retail officials at tourist locations such as zoos, aquariums, show caves, museums, amusement parks and more. The readership additionally consists of owners, buyers and managers at shops located in resorts and hospitals, and at apparel, jewelry, Hallmark and other types of gift stores and boutiques.
Among SGN's readership are buyers from: Zoos and Aquariums, National and State Parks/Caves and Caverns, Museum Stores, Hospital Gift Shops, College Stores, Minor League Baseball and Other Fan Stores, Party Stores, Inspirational Merchandise Shops, Fashion Accessories and Apparel Stores, Country, General and Variety Stores, Shops Dealing in Quality Gifts, Stores with a Focus on Plush and Toys, Resort Gift and Souvenir stores, Tourist Attractions and Botanical Gardens, Beach Shops, Spas and Cruise Lines, and many others!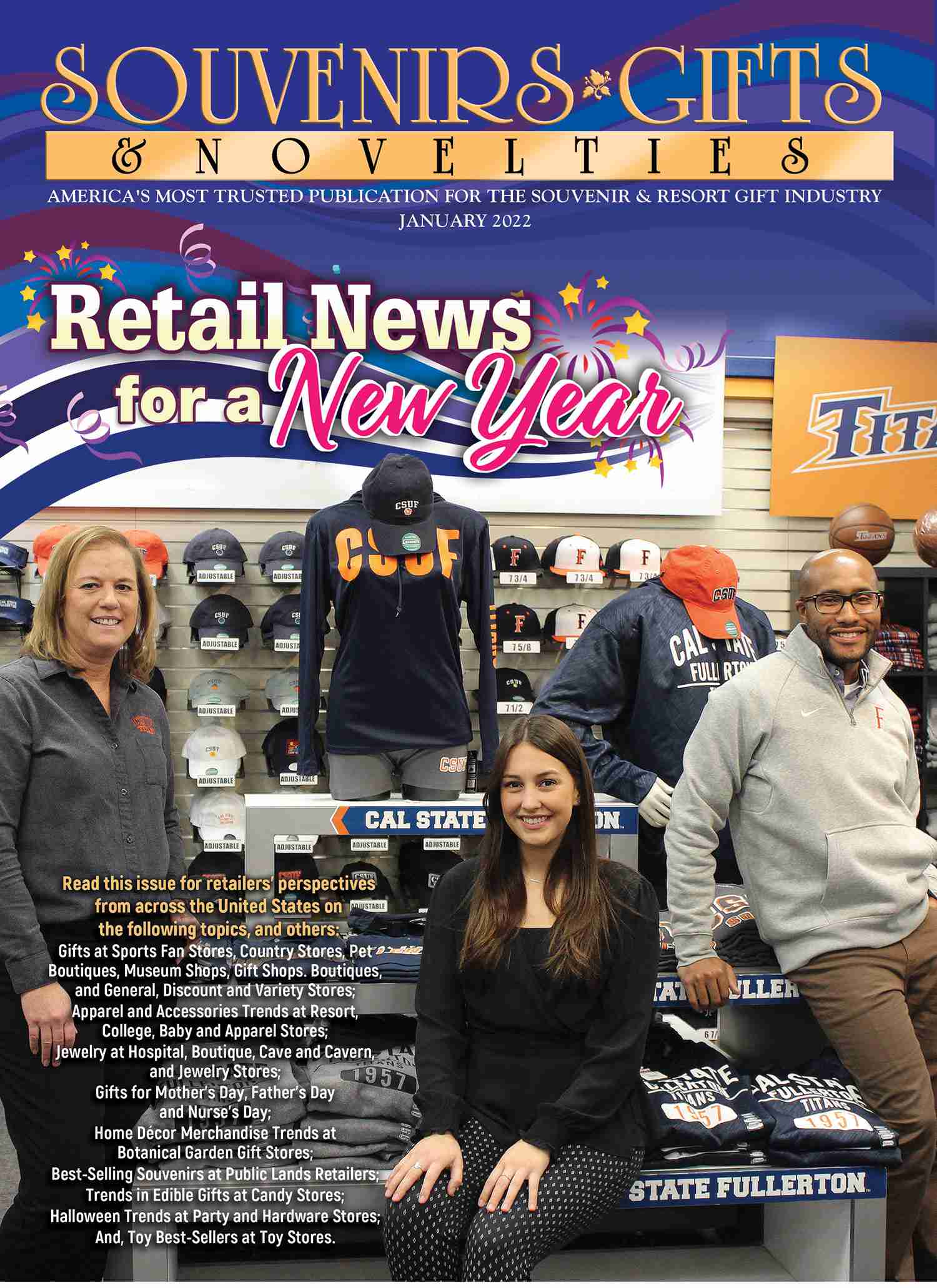 Wow what a beautiful spread! …I can't thank you enough for including me!
What a lovely article! Thank you so much!!!…I have shared the link with the owner of the hotel and my boss the GM and they loved it!!
The last ad (Souvenirs, Gifts & Novelties, May 2020 issue) did well for us. Maybe there wasn't as much competition in the smaller issue, but we sold quite a bit from it. That was a nice surprise at a time like this
We always enjoy Souvenirs, Gifts & Novelties magazine and are happy to share our stories. I learn something from it every time I read it and share it with our gift shop staff regularly.
Thanks for your magazine. I really enjoy it and learn from it monthly.
So, so excited about the article. We got our copy and we are over the moon. I would like….three more copies if possible. The Old City district wants one, …my manager, and we want to frame one! Thanks again. It really was awesome!
Time to send out our INCREDIBLE appreciation and love for the unsung heroes of the Zoo, our Guest Services Staff! In a challenging year, they have continued to serve you, our guests, with smiles on their faces (you just can't see them under their masks). We thank you for your commitment to ZooMontana. We are also over the moon proud of their representation of the Zoo in both the attached article, and on the cover of this month's. Souvenirs, Gifts & Novelties magazine. Wow!! Next time you come in, give them a bit of congrats, they more than deserve it
Thank you for your wonderful magazine. I love getting it and we do a lot of business with your advertisers. I know that their marketing money is limited, so I make sure to mention that I saw them in Souvenirs, Gifts & Novelties magazine. Win-Win-Win. Everybody's happy!
So, [one,] the ad brought her into the booth, and [two,] the order ended up three times larger than it would have been. If she didn't see the ad, she wouldn't have been in the booth. She reminded me 'See, your ad worked,'
We have been in business since 1988 and a part of our success has been the use of trade magazines such as yours. Being far away from most trade shows, these magazines are a great lifeline for us who can't just drive to a gifts show. So thank you for being there for us with insightful articles.
I just received my copy of SGN Magazine, and I was delighted to see [Natalie Hope McDonald's] article about us. Thank you for featuring my shop in such a lovely way. It means a lot to me as a small business owner.
Because of our budget, I am unable to go to market, so your Souvenirs, Gifts & Novelties publication serves at a great tool for me to see what is new and trending in the market, and I have tried many new products because I've seen them advertised in your magazine. Thanks again.