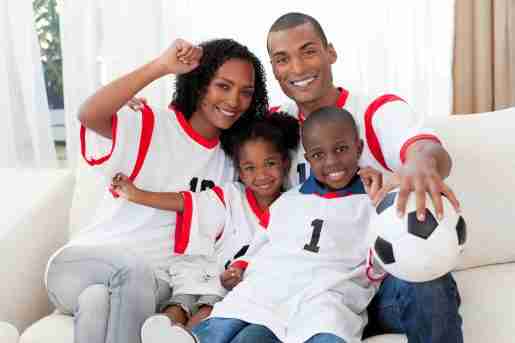 Sports fans of all kinds – minor league and major league enthusiasts alike – enjoy showing love for their team. Sports fan stores and minor league baseball shops share their top apparel sellers and tips to sell more licensed apparel.
At Baltimore Sports & Novelty in Owings Mills, Md., Owner Jeffrey Katzen said sweatshirts and jerseys are his top-selling apparel items. "We sell only Baltimore teams, the Orioles, Ravens, and University of Maryland. The Ravens are the best-sellers, and Orioles second. When the weather gets cold, knit hats sell like white bread, because they're inexpensive and people want to be warm. Sweatshirts also sell well when it's cold. Jerseys are more of a luxury item."
To sell more apparel, Katzen said it's all about pointing people in the right direction when they come into the store. "People know I'm here, and they come to shop because they want to purchase certain things." While to a large extent his selection sells itself, he also uses social media to announce the arrival of new items. "Overall though, selling more apparel really depends on when teams win or lose. When a team wins, fans want the merchandise. If they lose, fans won't want it even if it's free."
In Omaha, Neb., at the Husker Hounds Inc. shop, Manager Cory Davis terms T-shirts his number one seller all year long. "We carry primarily football-driven apparel, although we do carry a little of the other sports as well. In the cold weather, we sell more knit hats and sweatshirts. Hooded sweatshirts sell number one over crew sweatshirts. When it comes to the beanies we carry, it really just depends on the weather how many people buy them." Davis noted that "Whatever coaches and players are wearing on the sidelines become our number one sellers, whether that's sweatshirts, jackets, polos, or T-shirts, that apparel is what becomes the most sought-after."
To sell more apparel items, Davis often uses Facebook to promote new arrivals online. "In the store, display is always number one. Re-merchandising is key to showcase different items at different times and keep things fresh. We also do themed seasonal displays for Halloween and the winter holidays."
Lauren Wombacher, director of merchandise for Hillsboro Hops Baseball in Hillsboro, Ore., said her top apparel sellers are their "Nike primary logo T-shirts, the Retro Brand T-shirt with our home cap logo – and pretty much anything Retro Brand actually, and our primary logo hooded sweatshirt." To sell more of these items her store highlights any unique items available. However, their best-sellers are staples that they always carry, but which are also attractively displayed.
At On the Field.com in Seattle, Wash., Manager Martin Wilson described his top apparel sellers as "definitely the jerseys." However, the kind of jerseys that fans want are something that stands out as new. "Since the Seahawks have had the same players for the last two years, people are always looking for something different. This year, it's our green jersey. The team just came out with it. Fans really do go for whatever is the newest item. We needed more of the green jerseys in stock, they sold that quickly. Of course, since we need to pre-order a year in advance, you never know exactly how many of even the newer items to buy," he related. "We had a green jersey years ago, and it didn't do well back then. The new one is just a better shirt; it's made by Nike and they do a great job."
To sell more apparel, Wilson relies primarily on display. "We have a stand in the center of the shop right now that features a light-up scarf and beanie. The center placement really catches people's eyes." And of course the light-up items are very eye-catching themselves. "The light-up items have small batteries in the cuffs. They are another new item that came out recently and sell very strongly."
Donna Grunow, director of merchandise for the Lake Elsinore Storm team, described her top apparel sellers as "primary logo T-shirts, dry-fit Nike shirts, and really any dry-fit shirt," for guys. But women's and girls' apparel are also top sellers. "We have little girls' shirts with V-necks that sell very well; it's a flowered type of shirt. Almost all our ladies shirts also sell really well, V-neck, three-quarter sleeves, tank tops. Ladies are big team fans, and I always try to get the product in a variety of [size ranges,] so that whether you're a junior, you're curvy, you're older, there is always something in there that's cute and that fits well. I want everyone to find something that appeals to them, and will fit them. It's really rare that women come in the shop and leave and not find something they want to buy." Grunow does especially strong sales with tank tops. "I usually feature three or four different tank tops because of our location. Lake Elsinore does get hot, so we sell a lot of them."
To sell more apparel, choosing the right kind of merchandise is the first step, according to Grunow. "I think it's the design of a shirt itself that affects sales. If a shirt is too busy or fans don't like the design, they won't buy it. Simple sells better." Beyond the merchandise selection, Grunow also relies on social media at salient times. "Maybe once or twice a week we will go on social media, and certainly at the beginning of a season when we get new items, or during the holiday season, Thanksgiving through Christmas. Black Friday and Cyber Monday are both big days for us to use social media to promote our apparel." Grunow primarily uses Facebook to offer discounts online and promote specific items. "Sometimes we'll also do fan surveys. For example, we'll ask fans which of two hats they like better, or if we should carry an item or not. We'll ask for votes and opinions although not super often. It is a good way to make fans feel involved. Sometimes we also send out surveys to season ticket holders to ask them what they would like to see in the store, or what they would like to see more of. We find that if season ticket holders will buy an item, other fans will as well."
At the Billings Montana Mustangs minor league team store, Chris Marshall, director of corporate sales, relates that the team shop's top apparel sellers are T-shirts and hats. "Those items do the best for us. Fans like the styles, and will often come in and get our new T-shirt at the beginning of the season because it's a strong way for them to show support for the team." To improve sales, Marshall says the shop really relies on the displays, which are fresh but basic. "We don't really do anything special, we just hang shirts on the wall, and they are on racks so they are easy to find."
Overall, it's always a winning season when it comes to selling more licensed apparel for sports shops and minor league baseball team stores.