Public lands partner stores support national and state parks and regions, in part by offering merchandise for sale that supports the goals of the public lands associations themselves. These goals are often to preserve and protect an area, while providing information about nature or culture. Included in that merchandise is often a robust mix of apparel items, but for some locations, the idea of selling apparel is a new one.
At the Western National Parks Association National Parks Store in Oro Valley, Ariz., Assistant Manager Bill Niehaus said the store's top-selling apparel items include T-shirts, kids' clothing, and ballpark hats.
According to Niehaus, "Our T-shirts themed with images of the Saguaro National Park in Tucson and ballpark hats with local animals on them are very popular. Another good seller for us are junior ranger items, merchandise like ranger vests and hats for kids, those are all very popular." The latter items appeal to children's imagination, while the T-shirts "are basically wearable souvenirs," he said. While the store offers shirts that simply say "Tucson" he related that the best-selling T-shirts all have national park images on them. "They are the top choice for visitors because they have images of nature on them that people want to keep."
To sell more apparel items, the store primarily groups its apparel together. "We have all our T-shirts on one spinner rack or cubbies; but we do have some displayed on mannequin forms with books and other items that are cross merchandized throughout the store." He noted that the association also has an online store which has a strong social media presence which also promotes the apparel items.
Cathy Baldau, executive director for the Harper's Ferry Park Association in Harper's Ferry, W.V., described the store's top seller as "Our John Brown T-shirt, due to its specificity to our location. They make an excellent souvenir. We also do well with retro ranger shirts. We've had a company do retro park artwork which we've sold on cups, mugs, and stickers for some time, and those have always sold very well, but they didn't do apparel. So, we partnered with another company to get that design on a T-shirt, and it sells like crazy." That vintage look has a strong appeal to visitors, she added.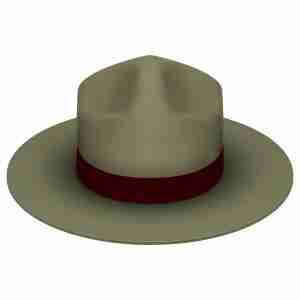 Besides T-shirts, the store does well with other apparel items such as hats, hoodies, and sweatshirts, but "T-shirts are by far our top-seller. Second would be our hats, with just our logo on them. People purchase those for some comfortable shade, as well the location named on them." An additional strong seller for the shop is children's apparel, Baldau said. Just as at the National Parks Store in Arizona, junior ranger vests and hats are popular at the Harper's Ferry store. "They tie in with the park service's junior ranger activity book which many children enjoy. And the kids can also be sworn in as a junior park ranger by a real park ranger, so the attire is just another part of that."
Back in Arizona, at the Grand Canyon Conservancy in Grand Canyon Village, Warehouse and Retail Assistant Rina Huseyin has worked both for the Conservancy's online store and at the in-person retail stores, which the conservancy has five of at Grand Canyon National Park.
She described two top sellers that are standouts among many different apparel items. "We have a unique, navy blue short-sleeved T-shirt that says 'All About the Layers' on it. It provides information about the canyon and has an appealing design. That is the shirt that we always run out of. Another big seller reads 'Ornate Destinations' on an eggplant-colored background. They are both original in design and reference the canyon itself which makes them great to take home." The colors appeal to guests, too.
The Conservancy's in-person stores rely on displays to sell apparel, but how they do that "depends on each store's individual manager," she attested. "We do both cross-merchandising and separate displays by category." Online, display is also important, and is accomplished through the use of attractive apparel images.
In Volcano, Hawaii at the Hawaii Pacific Parks Association, Al Galiza, retail operations manager related that "Our best-seller has to be our zip-up hoodie. The elevation here at the National Park is over 4,000 feet and it's cooler than people who visit the islands might expect. So, when they come here, they want something warm. It is our number one seller for just that reason, it keeps visitors warm."
According to Galiza, "In the T-shirt category we have a green short-sleeved shirt that is very popular. The shirt depicts Pele, the Hawaiian goddess of volcanoes. We are very big on Hawaiian culture in in the items we offer. On the back of that shirt, surrounded by native blooming flowers, there's a cultural depiction of the National Park rather than a typical geological image of the volcano. It is really key for us to incorporate representations of Hawaiian culture into our merchandise."
Boosting apparel sales is based on displays and placement of displays in the association's store, Galiza said. "We have apparel where the visitor can see it as soon as they enter the store. That will make an impression, and they will remember it, and come back for it if they are doing something else. We also promote our apparel on our webstore."
In Anchorage, Alaska, at the Anchorage Park Foundation, Community Engagement Director Diana Rhoades has just added apparel items to her retail mix. Rhoades said, "We just ordered T-shirts for the first time, but we don't have a separate retail space. The shirt is what we call a Moose-Loop design that shows that our trails are connected together in a moose-shaped loop. We will be selling them at events at promotional booths." Until now, the foundation has only sold maps of the parks and trails that are available for order by making a donation.
Many association stores sell everything from stickers and magnets to apparel items such as T-shirts, hats, and hoodies. Overall, the strongest sellers appear to be T-shirts, specifically those that are unique to the location and represent a fresh image or informational approach, rather than just a standard logo or a more commercial image. Often those depictions are rooted in an area's culture or reference history of a location or an environmental feature.